I was an active member of CAP for six years. I participated in all levels of CAP activities, including search and rescue, flight school, and IACE. I earned the General Carl A. Spaatz Award (the grade Cadet Colonel). I was a member of the Allen County Cadet Squadron (12186), which is now part of the Fort Wayne Composite Squadron (IN-201). I have not been a member of CAP for several years, so some of this may be dated.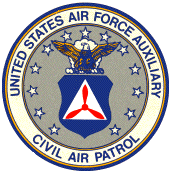 Introduction to the Civil Air Patrol
NB: I wrote this introduction shortly after I joined CAP when I was 15, and have only slightly updated it since then.
The Civil Air Patrol (CAP) is the civilian auxiliary of the United States Air Force. The Civil Air Patrol has three missions: Emergency Services, Aerospace Education and the Cadet Program. The Civil Air Patrol was formed during World War II. In W.W.II the Civil Air Patrol helped train pilots for the war, and patrolled the coasts. CAP flight crews sunk several Nazi U-boats during the war. In May of 1948 CAP became the auxiliary of the USAF.
The Civil Air Patrol is a very important Emergency Service, ES, organization. Most missing airplanes in the US are found by CAP. CAP search and rescue, SAR, searches for missing planes and people. There are two types of search teams; flight crews and ground teams. Flight crews do air searches flying both CAP and member owned airplanes. Ground teams search on foot and in vans. Ground teams consist mostly of cadets. When there is a missing airplane in the US the Civil Air Patrol helps locate it and, if possible, helps rescue whoever was in the airplane.
All airplanes have ELTs, Emergency Locator Transmitters. When an airplane crashes, the ELT is set off. When this happens, the signal from the ELT is picked up by a satellite. The satellite alerts emergency workers at the Air Force Rescue Coordination Center, AFRCC. They then alert the proper people. In the US this is usually the Civil Air Patrol. CAP sends out flight crews and ground teams. They then use special radios, usually "elpers," to locate the ELT. In this way it is possible to find the downed airplane.
CAP participates in more than just SAR. We do Civil Defense missions where we help with damage assessment and communications. There are also Disaster Relief missions. CAP members assist with communications, evacuations, and other services that are needed. The Civil Air Patrol also helps other agencies. CAP assists the US Coast Guard in "sundown patrols," and the Red Cross by airlifting organs, medication, blood, and people.
The Civil Air Patrol teaches aerospace to both CAP members and nonmembers. CAP publishes a variety of materials that can be used for aerospace education.
The CAP is divided in two groups, the Cadet Program and the Senior Program. The cadet program is for members age thirteen, or finished the sixth grade, to age twenty-one. The senior program is for members 18 or older. Cadets learn to follow and to lead. They learn military drill, customs, and courtesies. Cadets learn about airplanes, team work, emergency services and other related subjects. Cadets who are members of ground teams do a large amount of the emergency services. There are also special encampments that cadets can go to and learn about these subjects in more detail, and to learn about other related subjects.
There are many national, region, wing, and local activities for cadets to participate in. The Indiana wing has two encampments a year and many practice and actual missions.
Some national special activities are:
Air Education and Training Command Familiarization Courses (AETCFC)
Hawk Mountain Ranger School
National Glider Encampments
National Ground Search and Rescue School (NGSAR)
Pararescue Orientation Course (PJOC) and Advanced Pararescue Orientation Course (APJOC)
The Civil Air Patrol is a great group and I encourage you to join! For More info check out the CAP home page, or contact your local squadron.