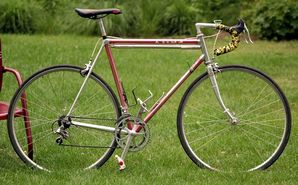 Thanks to everyone who has helped me improve the information on this page. Please email me if you have suggestions for further improvements.
My Vitus
For several years, my road bike was a 1988 Vitus 979. The French company Vitus was one of the few companies to make aluminum road frames in the 1980's. I believe that this version of 979 was introduced in 1984. This bike came with Shimano 600 (Ultegra) components and Mavic tubular rims. The handlebars are Cinelli Colorado aluminum bars. The original stem was a Cinelli, but it was cracked so I replaced it with a Specialized. I had Look pedals from about the same time installed. Those old Look pedals aren't nearly as sleek as the new ones, but the bearings are great, so I still use them. Fully built up my 979 weighed about eighteen pounds. After riding the sewups for a while, I replaced the wheels so I would have clincher rims and a freehub. The clinchers aren't as nice as tubular tires, but they are much less expensive. My clincher rear wheel weighs about a pound more than my tubular rear wheel. I rode my first century on this bike.
Yes, I know the frame is pink. Officially it is 'Rose.' I bought this bike on eBay, and the seller's picture wasn't color corrected. Online it was a nice red color. When I opened the box, I was surprised at the color. I had gotten a great deal on the bike, so I kept it. Since I couldn't afford to buy another bike, I spent a few years as the guy on the pink bike. Since then, I have learned that this bike came in pink, blue, white, gold, and green. The bike on the Vitus 979 Track page shows what an unfaded 'Rose' Vitus looks like.
About Vitus
I now have a page about Vitus and other people's Vitus bikes.
I haven't really found much information about Vitus online. I know they are an old company. Vitus is a well known maker of bicycle tubing. According to Sheldon Brown, Vitus is "France's leading manufacturer of high-quality frame tubing." Vitus was one of the early makers of aluminum bicycles. Vitus made early carbon fiber bikes using the same designs as their high end aluminum bikes. They have not sold to the US since the early '90s. The last few years that Vitus frames sold in the US, they were only available through one of the major mail order companies. Vitus bicycles were available in Canada in the late '90s. They then disappeared from the internet for a while. In spring 2005, Nashbar had new old stock Vitus 979 frames for sale. Vitus now has a webpage. Vitus' site lists shows some nice all carbon frames. I do not know of any current North American distributor of Vitus bicycles, but they can be ordered through Chain Reaction Cycles in the UK.
The Vitus 979 Frame
The Vitus 979 is a classic racing frame. It is fairly light; I believe it was the lightest production frame available for several years starting in 1986. It was a very nice frame for its time. As soon as you start riding it, you know it wants to fly. If you ride a road racing bike, you know what I mean. If you are used to a touring bike—like I was before buying this bike—it will take a little while to feel comfortable with the handling. The 979 has tight geometry for an '80s racing bike. There is little clearance between the tire and the seat tube. This is common today, but it looks tighter than similar bikes of its period. Other than the frame flex, I love the way this bike feels. The geometry is perfect for my riding.
This is the frame the Sean Kelly rode for years. I don't know exactly what years he rode this particular model. This is the frame he was riding when he won the 1988 Vuelta a España and the green jersey in the 1989 Tour de France. He later rode the improved 992, as seen in this picture from 1992. Kelly's wins are a hole in the argument that stiffer frames are always better. However, it is worth noting that Kelly rode a fairly small frame, which would have been stiffer than the next size larger frame.
The 979 is a bonded aluminum frame. The main triangle is anodized aluminum. The tubes were made by Vitus. The frames were made and assembled by the French aerospace company TVT. The lugs are bonded to the frame with dry heat activated epoxy. The inside diameter of the tubes appear to be larger than the outside diameter of the lugs. So in addition to being bonded, friction holds the joints together. I have heard rumors of trouble with the bonds on these frames, but it doesn't seem nearly as bad as most report. I only have two actual examples of problems with the bonding, and they were both successfully repaired. My frame has not had any problems. Many people have emailed me examples of 979s holding up over the years. They often still ride them, or have only recently bought a new bike.
I've been asked some questions about the geometry of this bike. I wasn't able to take accurate measurements before I sold it. Fortunately, Bobby Sapovits posted several pages from a 1980s Vitus brochure, including the geometry page. This brochure isn't from the same year, but it is unlikely that the 979 geometry changed during the lifetime of the model.
Frame Flex
The frame is known to be very flexy. The 979 has one of the most flexible high end road frames of the past twenty-five years. It flexes so much that it feels strange on a trainer. I can see the BB moving an inch to the side when I stomp on the pedals. For normal riding it feels great. This is definitely a frame for light riders.
Rear Spacing (hub width)
The standard for rear dropout spacing changed from 126 to 130mm in the early '90s. Since my 979 was built in 1988, it used the old 126mm standard. It is now hard to find quality 126mm rear hubs at a reasonable price. The frame is flexible and the dropout spacing can easily stretch to 130mm without plastically deforming the frame. This means it flexes to 130mm without cold setting: once you remove the pressure, the rear triangle springs back to 126mm spacing. When I needed a new rear hub, I tried using a 130mm hub. The 130mm hub seemed like a good solution until I pedaled hard. If I put too much pressure on the pedal, my chainring would rub the chain stay.
To solve the chainring rub problem, I had to play with the hub for a while. I needed to keep the repairs inexpensive, so my new wheel used a Shimano 2200 8/9 speed hub. This hub has a 4mm spacer on the non-drive side. Once I removed this spacer, I had a brand new 126mm hub. I then re-dished the hub to make up for the missing spacer. The rest of my components were fine, so instead of upgrading everything, I replaced my seven speed freewheel with a seven speed cassette. Because this hub had a nine speed freehub, I added a spacer on the inside of the cassette. If I had used an eight or nine speed cassette, I would not have indexed shifting. I don't like the extreme dish of this wheel, but this setup worked well.
An alternate solution was proposed by a reader (January 2007). Instead of re-dishing the rear wheel, find a bottom bracket with a longer spindle. This would move the crank arms and the chainrings out from the frame to eliminate the rubbing. I sold the bike before I bought calipers, so I never made an accurate measurement to see if this would work. I don't know if BBs are available in the correct geometry for this to work, but it may be worth investigating.
Seat Post
This bike has a strange method of securing the seat post. Instead of a clamp, it uses a small bolt that screws into the seat post. I would call this a set screw, but have seen it referred to as a grub screw. I have not had any problems with the seat post moving. When I take it out, I can see where the bolt has dug into the seat post. This frame uses a 25.0 mm seatpost. The set screw is an M10 fine thread and has a special hardened tip made of a separate piece of metal.
Final thoughts
The Vitus 979 was a extremely light bike for its time. The frame is still good for fairly light riders. Late '80s replacement parts are now collector's items, so I'd recommend a more recent bike for daily riding. The Vitus was a huge upgrade from the early '90s Trek 330 I had been riding. I would consider buying a newer Vitus. I sold this bike when I found a deal on a Cannondale CAAD8.
Other Vitus 979s
From Barry in Toronto (

July 2009

):

I am still riding my 52 centimetre Vitus 979 rose coloured like yours which I bought brand new on Feb 28, 1987 for $2,195.00 at a bike shop and it's still going great. The Gruppo is the original Shimano Dura Ace with 6 speed freewheel 13, 15, 17, 19, 21, 23 (still using the original freewheel and I have a brand new spare in case it gives out some day), the chainrings are 52, 42. Cinelli bars and stem, Mavic MA40 rims and the front is still the original wheel, have replaced the rear rim only once. Two years ago I changed the seat for one that has the split and yesterday I changed the stem to an EVO adjustable so I can alter the height and angle etc. I reckon I have well over 100,000 kilometres on it. I'm in my late 60's so I now need to sit a bit more upright.

Vitus 979, Reborn - It sounds like the 979 works well in smaller sizes, and can be used with an 8 speed cassette.
From Steve (

January 2012

): A 1989 Vitus 979 size 48 cm, originally outfitted with Campagnolo Super Record.

From Eduardo (

January 2012

): An unidentified Vitus 979. Note that this one has a proper seat post clamp (it clamps the post instead of using a grub bolt), an externally routed rear brake cable and fender eyelets. It looks similar to the one sold as a Motobecane in 1984 and 1985. If you know what this bike is, please email me.

Harold from Phoenix prefers the Vitus 979 to his other bikes, including a new Cannondale CAADX:

The Vitus is still my favorite ride of any bike I ever owned, with my steel frame Serrota a tight 2nd.