Renewable Energy for Your Home by Bryan and Belli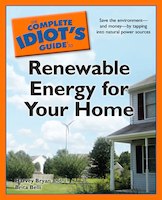 I saw this book on the featured shelf at the local library and it looked interesting. I only read this book quickly, so here is a nano-review:
The Complete Idiot's Guide to Renewable Energy for Your Home is a very basic intro to the different categories of home energy production and conservation for people who don't know anything about the subject. After reading this book, you'll want to read separate books on the areas that you are interested in, but If you've never paid attention to small scale generation and home energy conservation, this is a decent place to start.
---
BibTeX ref:
@book{bryanbelli2009,
	Author = {Bryan, H. and Belli, B.},
	Publisher = {Alpha Books},
	Series = {Complete Idiot's Guide to},
	Title = {The Complete Idiot's Guide to Renewable Energy for Your Home},
	Year = {2009}
}